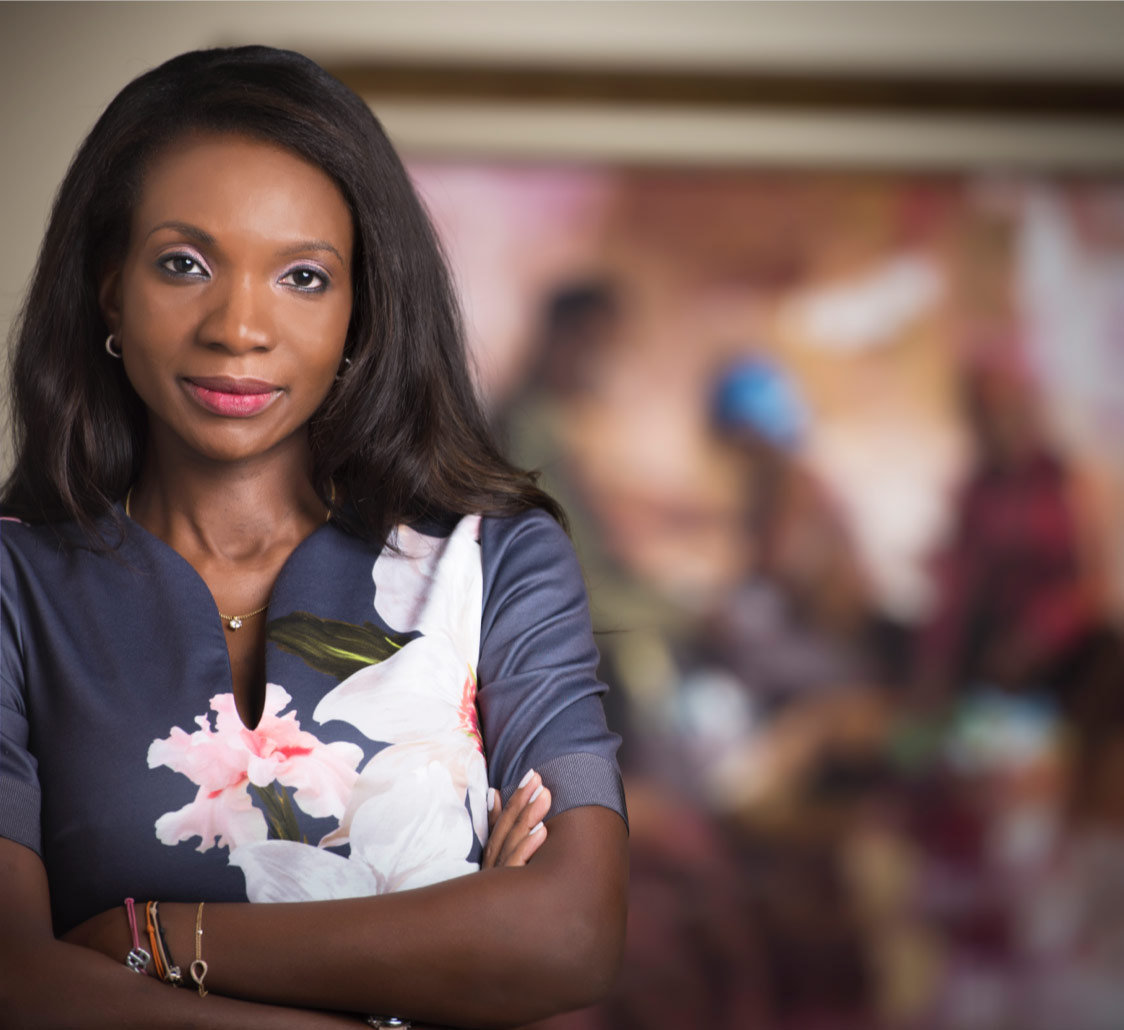 Laureen
Kouassi-Olsson
Founder & CEO
Private Equity, Financial Services, Luxury and Creative Industries.
Team
Aïda Muluneh
Creative Consultant
Jessica Ngon Kemoum
Head of communications
Philippe-Alexandre Aka-Adjoh
Art Director
Paul Marie M'Bo
Director - Acces to Finance
Louis Armand Zocko Blé Pockpa
Junior digital communication officer
Hervie Gaye
Office Manager
Governance
Board of directors
Creative Board
Birimian will ensure the sourcing quality of high potential designers & labels by setting up a Creative Board, composed of experts and personalities from the industry, that will guide us in identifying talent and their potential. 
The Creative Board will be composed of 10 members and is currently being formed.
Laureen Kouassi-Olsson
Founder & CEO
Private Equity, Financial Services, Luxury and Creative Industries.
Private Equity, Financial Services, Luxury and Creative Industries.
Laureen Kouassi-Olsson is a seasoned investment executive in the African financial services and private equity industries. She has been identified as one of the top 100 most influential African women.
She has over a decade of experience in investing in private companies and financial institutions on the African continent.
She started her career at Lehman Brothers in London in Mergers & Acquisitions on the European industrials team. In 2008, following the collapse of the prestigious investment bank and to the global financial crisis it prompted, she decided to dedicate herself to a more responsible finance and to the development of her continent of origins. In 2009, she joined Proparco, subsidiary of the French Development Agency, dedicated to the private sector. In the banking and financial institutions department, she led the structuring and execution of private equity and debt transactions for the benefit of well-established African financial institutions.
In 2012, she joined Amethis, a Paris based leading French private equity firm dedicated to Sub-Saharan Africa who was sponsored by the Edmond de Rothschild Group. She was the head of the Amethis firm's practice and strategy in the financial services sector. She was deeply involved in the value creation and institutionalization processes of Amethis' investee companies, representing the firm on their respective boards and supporting them in the execution of their expansion strategy (restructuring, external growth, and diversification).
In 2016, she settled down in Abidjan, to launch Amethis West Africa, an investment vehicle dedicated to the Firm's investments in western and central Africa, with capital from local and regional institutional investors.
She had always been passionate about fashion and design and, as a result, began to develop relationships with talented African designers. Bolstered by her expertise in private equity and a deep affinity for African designers, she decided to create Birimian, which will link designers inspired by an African heritage to the international fashion and creative scene.
Laureen is a highly experienced non-executive director on the boards of several blue-chip African financial institutions.
Laureen Kouassi-Olsson holds a dual French and Ivorian citizenship, is an Alumni of EM Lyon and Harvard Business School.
Aïda Muluneh
Creative Consultant
Visual Art, Digital Communication, Set Design
Visual Art, Digital Communication, Set Design
Born in Ethiopia, Aïda Muluneh spent an itinerant childhood between Yemen and England before settling in Canada. She has always been driven by the desire to promote African creativity and talent.
After a career as a photojournalist at several international publications (the New York Times, TIME, The Atlantic, Vice, the Guardian, Elle magazine), Aïda Muluneh successfully turned in a decidedly artistic direction.
The winner of several photography awards from around the world, she is the founder of the Addis Foto Fest (AFF), the first international photography festival in East Africa.
As an exhibiting artist, Aïda's work has been shown in South Africa, Mali, Senegal, Egypt, Canada, the United States, France, Germany, England, Norway, and China, to name a few countries.
A selection of her photos can be found in the permanent collection of the Museum of Modern Art (MoMA), the Smithsonian's National Museum of African Art, the Hood Museum of Art, the RISD Museum, and the Museum of Biblical Art in the United States.
She is the 2007 recipient of the European Union Prize at African Photography Encounters in Bamako, Mali, the 2010 winner of the CRAF International Award of Photography in Spilimbergo, Italy, and a 2018 CatchLight Fellow in San Francisco, California.
Aïda is convinced of the power of the combination of photography and fashion as a vector of change in the continent's narrative, so naturally, she partnered with Birimian to enhance the image of the company's creatives and brands.
Jessica Ngon Kemoum
Head of communications
With a master's degree in Communication, Media, and Creative Industries from Sciences Po Paris, Jessica has dedicated her career to working in the field of communication in Africa.
In 2018, she joined the 35°Nord agency as a consultant in press relations and digital communication, helping international corporations reach their audiences and stakeholders in West Africa, before becoming a digital project manager at Blue Lions in Paris.
In the course of her activities, she worked for several cosmetic and media companies, for whom she developed and implemented digital communication strategies. These experiences provided her with creative skills and allowed her to develop an expertise on the African creative industries.
Jessica joined Birimian in January 2022 as Brand Content & Editorial Lead.
Philippe-Alexandre Aka-Adjoh
Art Director
With a Bachelor in Fashion Marketing from LIM College, Philippe-Alexandre is a creative individual who has had a diverse career in the fashion industry. In 2018, he worked as a community manager at a Street Connexion, a sneaker store in Lyon, where he helped to build an online community around the store's products. His love of fashion and design led him to pursue new opportunities, and in 2019 he moved to Boston and worked as a creative director and content creator for a vintage boutique where he helped to curate a unique aesthetic for the store. During his time there he also worked in retail at Converse as a sales associate, manager then maestro (custom designer) and he also pursued a freelance career in editorial photography.
As an Art director, Philippe-Alexandre is in charge of the brand image throughout the variety of projects that Birimian will take part in. He is also working closely with a range of high-end African brands to help them develop and execute their visual marketing strategies.
Paul Marie M'Bo
Director - Acces to Finance
A polyvalent worker, Paul-Marie has experience both in fashion and finance. After graduating from GTUC/Conventry University with a MBA in finance, he spent the majority of his early career in fashion retail. He worked for 2 years at Elle Lokko Concept Store in Accra as a buyer, where his role was to analyze customer buying patterns and predict future trends. This position allowed him to gain general knowledge of African fashion brands.
He then came back to Côte d'Ivoire, to work for accounting firm, before getting the opportunity to join Advans Côte d'Ivoire, where he worked for 2 years in the micro-lending sector. With this position, he was able to develop his skills in terms of risk analysis. 
Paul-marie joined Birimian in July 2022 as a junior Financial analyst. He is in charge of brand's business plan review, in-depth financial analysis and development of financial models.  He also ensures due diligence processes and analysis of investment opportunities.
For the IFM-Birimian x Africa program, he assists the team with financial analysis, monitoring and selection of brands. 
He also leads the Birimian x OBA program, from brand identification to financial analysis, completion of the credit application, and follow-up of repayments.
Louis Armand Zocko Blé Pockpa
Junior digital communication officer
A fashion enthusiast, Blé started his career as an intern at CHIK magazine, a digital and print media focused on African fashion and Afropolitan culture.
Immersed in this creative universe, he found a passion for digital communications and fashion journalism, which created several opportunities for him to work with local press (Milc, Ayana) and international press (Elle, Afropolitan, ParisAbidjan, Nikkou, Afrique Magazine).  
In 2018 he created and launched #JePorteUnDesignerAfricain. A community dedicated to promoting the work of African designers and the diaspora. The movement achieved great success amongst West-African consumers and designers.
Blé's experience in various editorial houses and communication agencies has allowed him to develop great analytical and writing skills.
Blé joined Birimian in July 2022 as a Junior digital communication officer.
Hervie Gaye
Office Manager
With a BTS in Bilingual Executive Secretary, Hervie started her career in the hotel industry in 2006. She worked for 3 years in this sector and experienced a great professional ascension. First a receptionist, then an interim secretary, she ended her career in the hotel industry after having been an executive secretary for the Hotel La Colombe, in Abidjan.
In 2009, she joined the Lawal Communication agency, as executive secretary. After this period in the event management field, she joined MEI (Maintenance Electronique Industrielle) as an executive assistant. She occupied this position for nearly ten years before joining the Birimian team.
With her many years of experience and her ability to work in a variety of fields, Hervie joined the team in 2022 as Office Manager.