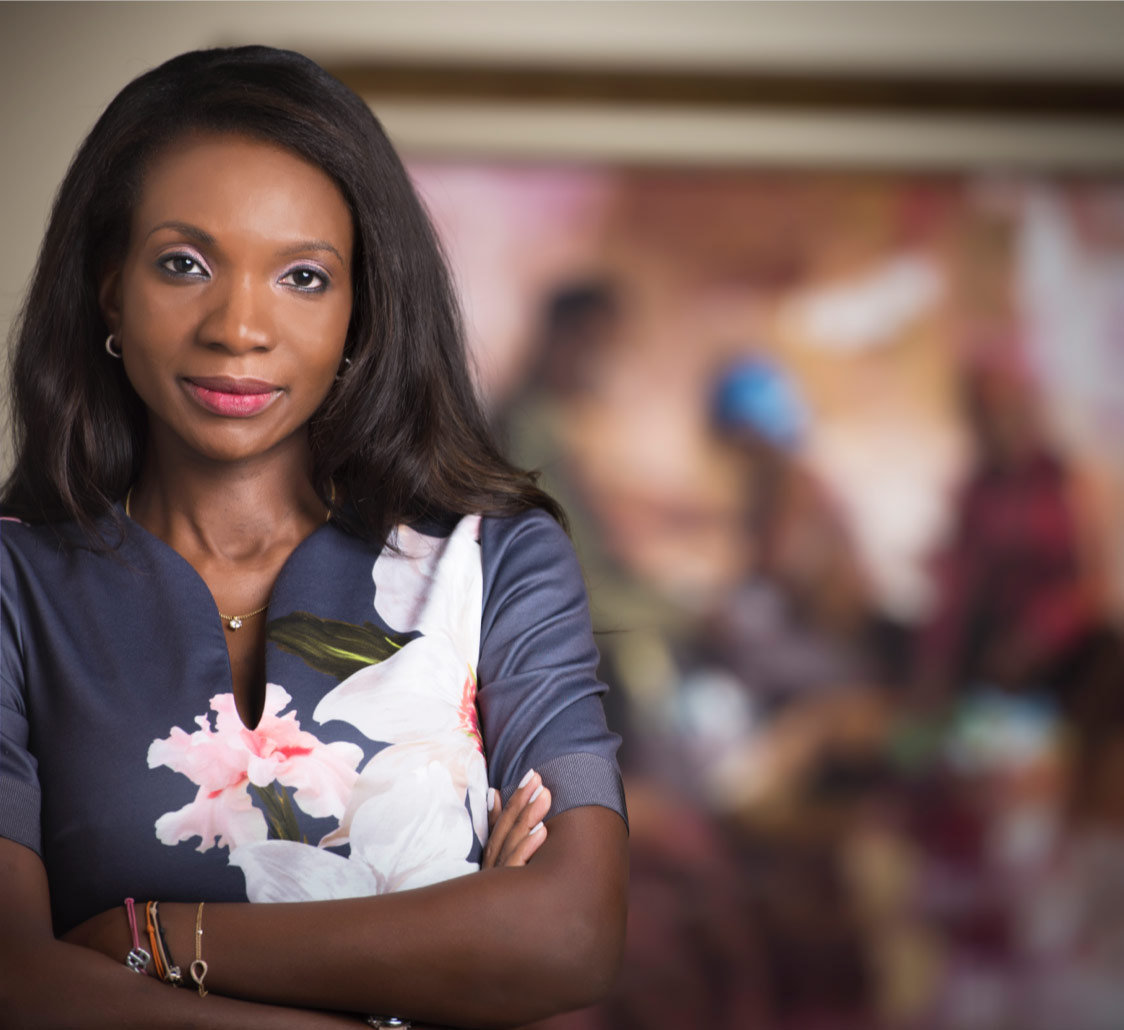 Laureen
Kouassi-Olsson
Founder & CEO
Private Equity, Financial Services, Luxury and Creative Industries.
Team
Olufunke A. Faweya
Head of Brand Operations
Aïda Muluneh
Creative Consultant
Governance
Investment Committee
Creative Board
Birimian will ensure the sourcing quality of high potential designers & labels by setting up a Creative Board, composed of experts and personalities from the industry, that will guide us in identifying talent and their potential. 
The Creative Board will be composed of 10 members and is currently being formed.
Laureen Kouassi-Olsson
Founder & CEO
Private Equity, Financial Services, Luxury and Creative Industries.
Private Equity, Financial Services, Luxury and Creative Industries.
Laureen Kouassi-Olsson is a seasoned investment executive in the African financial services and private equity industries. She has been identified as one of the top 100 most influential African women.
She has over a decade of experience in investing in private companies and financial institutions on the African continent.
She started her career at Lehman Brothers in London in Mergers & Acquisitions on the European industrials team. In 2008, following the collapse of the prestigious investment bank and to the global financial crisis it prompted, she decided to dedicate herself to a more responsible finance and to the development of her continent of origins. In 2009, she joined Proparco, subsidiary of the French Development Agency, dedicated to the private sector. In the banking and financial institutions department, she led the structuring and execution of private equity and debt transactions for the benefit of well-established African financial institutions.
In 2012, she joined Amethis, a Paris based leading French private equity firm dedicated to Sub-Saharan Africa who was sponsored by the Edmond de Rothschild Group. She was the head of the Amethis firm's practice and strategy in the financial services sector. She was deeply involved in the value creation and institutionalization processes of Amethis' investee companies, representing the firm on their respective boards and supporting them in the execution of their expansion strategy (restructuring, external growth, and diversification).
In 2016, she settled down in Abidjan, to launch Amethis West Africa, an investment vehicle dedicated to the Firm's investments in western and central Africa, with capital from local and regional institutional investors.
She had always been passionate about fashion and design and, as a result, began to develop relationships with talented African designers. Bolstered by her expertise in private equity and a deep affinity for African designers, she decided to create Birimian, which will link designers inspired by an African heritage to the international fashion and creative scene.
Laureen is a highly experienced non-executive director on the boards of several blue-chip African financial institutions.
Laureen Kouassi-Olsson holds a dual French and Ivorian citizenship, is an Alumni of EM Lyon and Harvard Business School.
Olufunke A. Faweya
Head of Brand Operations
Operations Management, Retail, Production
Operations Management, Retail, Production
A seasoned professional in marketing strategy and operations management, Olufunke Faweya has dedicated her career to expanding consumer brands to new markets or consumer segments.
She has developed more specific expertise in the food & beverage, personal care, beauty & well-being, and home care sectors in mature markets, emerging markets, and especially, Sub-Saharan Africa.
Olufunke has gained solid international experience (United States, Japan, Europe, India, Brazil, Nigeria, Ghana, Kenya, and South Africa) in strategy roles at PepsiCo, Procter & Gamble, Bain & Company, SheaMoisture (Sundial Brands), and Unilever.
Notably, she was Head of SheaMoisture Africa and International eCommerce at Sundial Brands before moving to Lagos in 2019 to follow her calling: helping African heritage brands establish or expand their presence in new markets, in Africa and internationally. This calling led her to Birimian.
A Nigerian and American national, Olufunke holds an MBA from Harvard Business School and a BS in Chemical Engineering from UC Berkeley.
Aïda Muluneh
Creative Consultant
Visual Art, Digital Communication, Set Design
Visual Art, Digital Communication, Set Design
Born in Ethiopia, Aïda Muluneh spent an itinerant childhood between Yemen and England before settling in Canada. She has always been driven by the desire to promote African creativity and talent.
After a career as a photojournalist at several international publications (the New York Times, TIME, The Atlantic, Vice, the Guardian, Elle magazine), Aïda Muluneh successfully turned in a decidedly artistic direction.
The winner of several photography awards from around the world, she is the founder of the Addis Foto Fest (AFF), the first international photography festival in East Africa.
As an exhibiting artist, Aïda's work has been shown in South Africa, Mali, Senegal, Egypt, Canada, the United States, France, Germany, England, Norway, and China, to name a few countries.
A selection of her photos can be found in the permanent collection of the Museum of Modern Art (MoMA), the Smithsonian's National Museum of African Art, the Hood Museum of Art, the RISD Museum, and the Museum of Biblical Art in the United States.
She is the 2007 recipient of the European Union Prize at African Photography Encounters in Bamako, Mali, the 2010 winner of the CRAF International Award of Photography in Spilimbergo, Italy, and a 2018 CatchLight Fellow in San Francisco, California.
Aïda is convinced of the power of the combination of photography and fashion as a vector of change in the continent's narrative, so naturally, she partnered with Birimian to enhance the image of the company's creatives and brands.
Audit, Analysis, Monitoring
Audit, Analysis, Monitoring
Magali Amany joined Birimian in January 2021 as an analyst. She is involved in the sourcing, selection, and investment process and monitors the portfolio.
Magali started in Crédit Agricole's legal department. She also provided tax assistance to expats at James Cowper Kreston in London before joining the teams of PwC Paris for two years.
Magali cultivates a passion for artistic expression in a broad sense, the creation of new talent, and the development of Africa.
Ivorian-French, Magali holds a Master's in Business Law from Lille Catholic University and a Mastère Spécialisé Juriste Manager International from Emlyon. She is studying for a finance degree at HEC Paris.